Scott McElwee gets suspended sentence after threat to police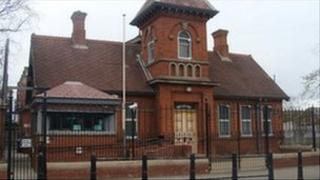 An 18-year-old man who threatened to burn police and their children out of their homes has received a suspended sentence at Limavady Magistrate's Court.
Scott McElwee, from Tamlough Park, Ballykelly, County Londonderry, admitted a series of charges that occurred on 8 August 2014.
Police were conducting a house search in Ballykelly at the time.
McElwee was sentenced to five months in prison suspended for 18 months.
All occupants, including McElwee, were asked to remain in the living room during the search.
McElwee became abusive to police demanding to see the search warrant and tried to leave the room.
'Extremely unsavoury incident'
He called police "pigs and paedos".
He was asked to sit down but continued to be unco-operative.
When he was searched police told McElwee that they would be seizing a mobile phone he had and the defendant threw it to the ground smashing it and tried to leave by the back door.
He was then handcuffed, arrested and put back into the living room.
Police then saw McElwee, while still handcuffed, trying to climb out the window.
He was detained outside and became abusive telling one officer that he would find him and his children and burn them out.
He also said he would perform a sexual act on the officer's wife.
While in a police vehicle he headbutted a window.
During an interview he said he had anger management issues and that he did not like the police.
He denied that he made threats against the officer's family and home.
Defence counsel said that this was "an extremely unsavoury incident" and there was "no justification for McElwee's conduct".
"He has adopted a protective role towards his mother. He did not believe there was any need for so many police."
The district judge said that McElwee's language towards the police officer was "beyond disgusting" and added that his behaviour "met the custody threshold".