Mother's campaign to save respite services at centre in Derry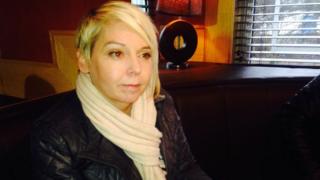 A mother with four disabled children has said she will step up a campaign with other families to save services at a respite centre in Londonderry.
The unit, known locally as the Cottages, supports children with learning disabilities.
In December, the Western Health Trust said the unit would not close but that services could be cut.
Some families affected by the proposal rejected offers of respite in Omagh, County Tyrone, more than 30 miles away.
Justine Welsh said the journey for two of her vulnerable daughters was out of the question.
She told BBC Radio Foyle that travelling to and from Omagh could take about three hours and said she has no choice but to fight cuts to services at the Derry unit.
'Difficult'
"I can't understand why they would look to take our children away from our own town," Ms Welsh said.
"Day-to-day is extremely difficult and I feel left out from a lot of people because my life is not the same.
"All the milestones that have come along are difficult for me."
A spokesperson for the department of health said: "The Western Trust is currently reviewing its respite services.
"The department awaits the outcome of the decision by the trust."