Magee expansion: Fresh funding bid for Londonderry campus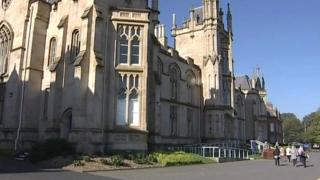 The minister for employment and learning has said he will bid for the £11m needed to pay for the expansion of the University of Ulster's Magee campus in Derry.
Last year, Dr Stephen Farry said there would be no new bid for funding before 2016 and that the expansion would be delayed for the indefinite future.
On Monday, the minister said the business case was now at a very advanced stage, after which a bid can be made for capital funding.
Dr Farry said he was committed to making the project "a reality in the very near future."
"I do give a commitment that I will bid for resources, in terms of any pots of capital money that become available.
"The earliest opportunity is likely to be the June monitoring round and that is the timescale on which we are primarily focused.
"Hopefully with a fair wind that process can proceed and that project will become a reality in the very near future."
'Symbolic important gesture'
Sinn Féin's Maeve McLaughlin welcomed the news but warned that the wider expansion plan for the university still needs to be addressed.
"The teaching block is part of the overall expansion of the university but the intention with the wider business plan is to double the student places and to take the university numbers to 9,400.
"This is a capital investment of £11m, it's certainly welcome but we do need to be mindful that they are two separate processes.
"It will enhance teaching facilities but the ongoing issue about investment in student places is a wider case but it is a very symbolic important gesture to the University of Ulster and Magee."
The University of Ulster was granted planning permission for the £11m extension to the Magee campus in 2014.
The extension will cover a floor space of almost 4,000 sq meters.
The building will have teaching facilities, a large lecture theatre, 20 classrooms and a cafe but no extra student places have been confirmed.