Gary McClintock: Derry man jailed for brandishing fake gun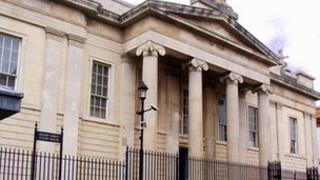 A 27-year-old man who pointed a fake gun at two boys and threatened to kill them has been jailed for 16 months at Londonderry Crown Court.
Gary McClintock from Dundrean Park, Derry, pleaded guilty to all charges. The incident happened on 29 November 2013 in Shantallow.
The gun was a lighter which resembled a revolver.
The boys, 16 and 17, picked McClintock out of an ID parade after recognising a rose-shaped tattoo on his neck.
McClintock, who had 69 previous convictions, committed the offences near the boys' homes. He'd been pestering them for cigarettes while drunk.
He also admitted possessing an imitation firearm with intent to cause fear of violence.
The judge said the two teens were terrified because they did not know the weapon was an imitation.