Londonderry's walls: Ancient building predates siege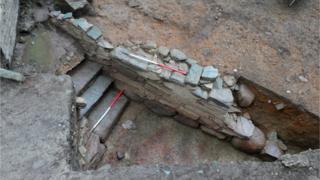 An ancient building that predates Derry's walls has been discovered along with musket balls, a small cannonball and a number of intact wine bottles.
The building, believed to have been burnt down during a rebellion known as the O'Doherty rising, in 1608, had stone foundations, a cellar and upper floors made of timber.
The earliest find was a shard of medieval pottery dating to AD 1200-1400. Only a small part of the building has survived.
Environment Minister Mark H Durkan, has described it as highly significant.
"Truly exciting"
"This is a truly exciting and important discovery. Archaeologists working for the Apprentice Boys have uncovered the earliest dated building in Derry and it is fitting that some of the artefacts uncovered will now go on display in the new [Apprentice Boys] museum.
"The building was burnt down prior to the construction of our walled city and the 'best fit' event for that fire would seem to be the 1608 O'Doherty rebellion when all the houses in Derry were burnt by Cahir O'Doherty's troops."
Although the Society Street building is an very early find, St Brecan's chapel, located in St Columb's Park in the Waterside, is thought to date back to the 6th Century.
Paul Logue, senior archaeologist with the Northern Ireland Environment Agency, told BBC Radio Foyle that this new discovery is the oldest on the city side of the River Foyle.
"We're able to tell from the building's alignment that it was before the walled city and because it doesn't feature in any of the walled city maps.
"It is probably the oldest across on that side of the river but this is the earliest building we've got now on the island of Derry, within the walls of Derry."
"Delighted"
The building and artefacts were discovered during an eight-week excavation in the area formerly occupied by the Walker memorial garden.
The Apprentice Boys Association owns the memorial hall site and General Secretary, Billy Moore, said it was a great day for the city.
"We are pleased and delighted that the dig has added significantly to the history of Londonderry. We eagerly look forward to placing the information uncovered and some of the artefacts on display in our new visitor centre, which we anticipate will open in summer 2015."