Xtra-vision: 10 jobs lost as Londonderry and Strabane stores close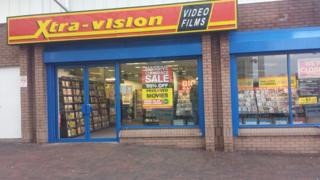 The DVD and video rental chain Xtra-vision is closing two stores in Londonderry and Strabane with the loss of 10 jobs.
The company's store in Strabane will close this week while their store at Lisnagelvin shopping centre in Derry will follow suit on the 2 February.
Xtra-vision closed a number of stores across Northern Ireland last year after going into receivership.
The rental chain was then sold to Hilco Capital Ireland for an undisclosed sum.
'Worrying trend'
The former Assembly speaker, Lord Hay, said it was yet another blow for Lisnagelvin shopping centre.
"Xtra-vision has been there for some time and I suppose what's beat it is the new technology where people can stream straight into their homes from online.
"For me it's a more worrying trend because over the last number of months that is the fourth unit to close at Lisnagelvin."
Supermarket chain Tesco own the Lisnagelvin shopping centre.
Last week, they confirmed that a multi-million pound redevelopment of the store was not going ahead.
Xtra-vision have yet to comment on the closure of their Derry store but a company spokesperson said the decision to close the Strabane store was part of an ongoing evaluation.
"We are constantly reviewing store performance with reference to size and location, as we develop and grow our retail business model.
"We are always looking to explore high profile locations for new stores that will allow us to broaden our customer engagement and in line with our business objectives.
"In the case of the Strabane store, the lease is under expiration, and given its small size and location, it has been under review, and we will be closing in the near future."