Bloody Sunday: Row over memorial window at Londonderry's Guildhall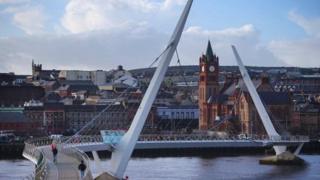 A row has broken out over the installation of a stained glass window at Derry's Guildhall commemorating those killed on Bloody Sunday.
The project has been delayed after a disagreement over what images the window should contain.
Some of the families of those who died on Bloody Sunday objected to one of the four panes.
Sinn Féin criticised an SDLP motion passed by Derry City Council on Tuesday that will allow for three of the agreed panes to be installed.
The fourth pane will be installed at a later stage once the contentious background has been removed.
'Totally surprised'
Sinn Féin councillor Barney O'Hagan said the window had been "completely redesigned" by the SDLP.
"Two years ago it was agreed that the Bloody Sunday Trust would be the conduit to represent the wishes of the families and that they would work together with the design team.
"A couple of the families then said they weren't included in the consultation but this was rejected by the trust and so the window gained the support of Sinn Fein and the majority of families. The SDLP also agreed until yesterday when they unilaterally redesigned the window.
"We were totally surprised by that move."
'Distressed'
SDLP councillor Gerard Diver said: "The issue is with the background of the fourth pane which is a photograph taken on the 15 June 2010 when the results of the Saville inquiry were announced.
"There is clearly a minority of people who are distressed at what's being depicted and I don't think pitching one group of relatives against the other is something council should be doing.
"75% of the windows will still go ahead, with the fourth panel being redesigned and installed on an interim basis until broad agreement can be made."
A spokesperson for Derry City Council said: "Following a vote taken at a meeting of full council, the majority of members voted in favour of the SDLP's proposal to explore the option of installing three of the panels, with a view to redesigning and installing the fourth panel at a later stage, after further consultation with all the families to gain full consensus on a design."