Derry school employs speech therapist over smartphone and tablet use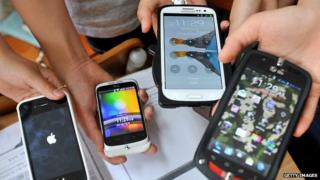 A Londonderry primary school has brought in a speech and language therapist because of the increasing use of smartphones and tablet computers.
The Model primary school's nursery teacher said parents need to spend more time talking to their children to help improve their language.
Nursery teacher Una McCool, who has been teaching for 21 years, said she has seen trends that are "worrying".
"Three and four-year-olds have become more dependent on tablets."
"They are asking for the computers more and demanding that they finish their parents' games.
"We find that they are less communicative. They prefer their own company. It affects small talk.
"They seem quite content but interaction is becoming less and less.
"When we give them blocks to play with you find them using them as pretend iPads or phones."
'Solitary'
Speech and language therapist Megan Cunning said: "It's a general trend throughout the schools I go to".
"Teachers have said that the children's speech and language skills have worsened over the years.
"They are used playing by themselves. They are not having to speak or interact with their parents or friends so of course there are going to be delays in development.
"Attention, listening and turn-taking are necessary skills and they just don't have them.
"It's all very solitary."