Magee expansion business case 'yet to be read'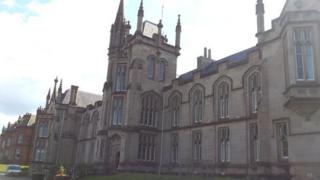 Employment and Learning Minister Stephen Farry has said he has yet to read in full the business case for the expansion of the Magee campus in Londonderry.
The document was submitted to his department in December.
Mr Farry said it is being studied by his department officials and he remains committed to the project but the lack of funding is a problem.
He said that he did not have the money for more students.
'Familiar'
He told BBC Radio Foyle that he is making his way through the business case document.
"A minister does not receive the business case normally until his or her officials have gone through it themselves and made the recommendations," he said.
"I have pro-actively asked for a copy early so that I would be familiar with its contents.
"We are many months away from making a decision in this regard," he said.
"Any decision would be taken based upon full consideration of the facts."
'Willingness'
SDLP Foyle MP Mark Durkan has said expansion at the Magee campus is the best way of delivering the benefits of higher education growth in the North.
"We all have to do everything to hold the Minister to his word about his willingness to hold the University of Ulster to the commitment it has voiced."
The Foyle MLA, Maeve McLaughlin, has said that increasing student numbers to more than nine thousand by 2020 was now part of a wider Executive focus on the North West.
"This is part of a wider negotiation. Stephen Farry unilaterally on his own can't say this cannot happen.
"It will be part of an overall package."