Derry housing: 80 social houses planned for the Glen area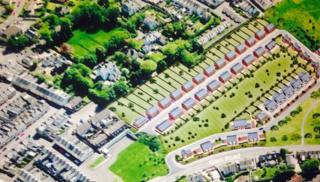 Plans have been unveiled for 80 new social houses and a community centre for the Glen area in Londonderry.
The Creggan Burn Park site will be developed by Apex housing association.
More than 3,000 people are waiting for social housing in the city council area.
Apex chief executive Gerry Kelly said: "We will apply for planning permission after the consultation process, which will go on for six weeks."
He added: "It will probably take nine months before a contract is awarded and building can begin."
'Major investment'
The plans for the Creggan Burn Park site are on view at the Glenview community centre.
Speaking to BBC Radio Foyle, Sinn Féin MLA Maeve McLaughlin said: "It's a major investment for the area, somewhere in the region of £10m"
"There's an outline planning permission already in place, now we need to go through the formal process.
"I would expect to see progress on site this year if not early next year."
Local mother Naomi Wright said a new community centre for the area was badly needed.
"I came here myself as a child and it's needed, definitely, because there's so much use of the hall that the one hall isn't enough."
Last week plans to build 200 new homes in the Galliagh area of the city were given the green light by the Department of the Environment.