Derry and Strabane super council to fine owners whose dogs foul unsupervised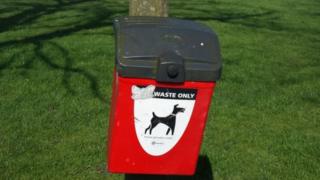 Dog owners could be fined for their pet fouling, even when off the lead, under new proposals by Derry and Strabane super council.
Currently an offence is only committed when a person permits their dog to foul and then fails to clean up after it.
The dog control order would bring the super council into line with current restrictions on owners by Strabane District Council.
Dogs could then be followed home by wardens to fine owners
'Follow dogs home'
Derry City Council's principal environmental health officer Enda Cummings said it was putting more responsibility on owners who let unsupervised dogs foul.
"Quite often we will be following dogs, they don't tend to be that far from home at the time.
"Wardens will lift such dogs and most are now microchipped anyway which makes it easier to locate the owner and repatriate the dog."
A spokesperson for Derry City Council said: "It will make it an offence for the person in charge of a dog at the time to fail to clean up after it."
"The order will apply to all land to which the public are entitled or permitted to have access which is open to the air and requires anyone in charge of a dog which fouls, to clean it up immediately.
"The person would be guilty of an offence unless there was a reasonable excuse, permission, or exemption due to a specified disability under the act."
The penalty for committing an offence contained in a dog control order is a maximum of £1000.
Alternatively, the opportunity to pay a fixed penalty of £80 could be offered in lieu of prosecution; which could be further reduced to £50 for early payment.