Sean Brown murder: Chief constable denies PSNI is 'shielding murderers'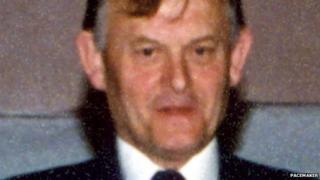 Northern Ireland's chief Constable has denied an SDLP claim that police are protecting the murderers of a Gaelic Athletic Association (GAA) official.
Sean Brown was abducted and shot by the Loyalist Volunteer Force in Bellaghy, County Londonderry, in 1997.
SDLP MLA and Policing Board member Dolores Kelly claimed Mr Brown's killers were being protected because they were "state agents" or informers.
But Chief Constable George Hamilton said "no-one is above the law".
'Conflicting evidence'
He made the remarks as he addressed the first public meeting of the Northern Ireland Policing Board since the signing of December's Stormont House Agreement.
"If we have been unable to press a charge for a murder or indeed any crime - it is not because we are 'shielding' anyone - it is because we have not yet been able to build a case that meets the very high threshold for a prosecution," Mr Hamilton told the board.
Speaking before the meeting, Ms Kelly said the police had a lot of questions to answer about the case.
"We have heard at the inquest into the murder of Sean Brown that there was conflicting evidence given by two senior police officers to that inquest.
"There is a widely held belief, given the number of redactions that are contained already in the information supplied to the inquest, that loyalist killers and more than likely informers are being protected," she said.
Classified material
"There were loyalist murder gangs in the area which seemed to be able to conduct their business and evil work without much intervention and there are some traces that the murder of Sean Brown links back to that gang."
However, the chief constable said that if anyone had information about a murder, including members of the policing board, they should bring it to the police.
"Likewise, if anyone has any information about alleged police misconduct, the right place to present it, is to the Police Ombudsman," he added.
Last month it emerged that a list of classified material deemed relevant for the Sean Brown murder inquest had been lost and that redactions, including the blanking out of names, on 34 folders of non-sensitive material had not been completed by the PSNI.