Manannán Mac Lír: Limavady Celtic sea god could return bigger than ever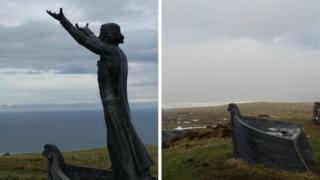 The sculpture of a Celtic sea god which was stolen from a mountain overlooking Limavady, County Londonderry could be replaced by one three times as large.
Limavady Borough Council is considering a steel replacement on Binevenagh which would be up to three times taller than the six-foot original.
Those who made off with the sculpture of Manannán Mac Lír left a wooden cross in its place.
Police said they are investigating the "religious aspect" of the theft.
'Priceless'
The original Manannán Mac Lír statue, commissioned as part of a 'myths and legends' project by the local council, went missing at the end of January.
The SDLP councillor Gerry Mullan was mayor when it was first installed.
"I think the cost of replacing the statue is irrelevant really. It's priceless when you consider the outrage around the world to the vandalism of the original statue.
"I also think to do a piece two to three times as big it could be seen as a slight to the perpetrators of the previous assault."
'Approximately £30,000'
In a report presented for the Limavady councillors, Valerie Richmond, development services officer, said it was unlikely the statue would be recovered.
"The cost of the original piece which was installed approximately two years ago was in the region of £10,000.
"The sculptor estimates that the cost to replace the figure would be approximately £10,000 and the cost to replace the entire sculpture (including the boat) would be £15,000.
"Should council wish to consider a larger sculpture, it would cost approximately £30,000 to create one two to three times the original size which would be made of mild steel."
The options will be discussed at Limavady Borough Council on Tuesday.
The statue had became a popular tourist attraction in the area since its installation about a year ago.
A Facebook campaign page, 'Bring back Manannan Mac Lir the Sea God', gathered thousands of hits.