Lockwood report: Derry university campaign 50 years on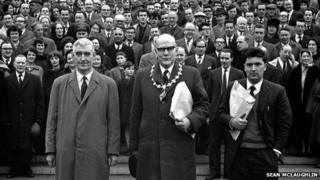 It has been 50 years but Londonderry still wants to finally graduate to the status of university city.
In 1965, the Lockwood report recommended Northern Ireland's second university be located in Coleraine rather than Derry.
The rejection of the site at Magee provoked an angry reaction that resulted in a cross-community campaign, culminating in a motorcade to Stormont.
Five decades later, there is still a campaign for a university for Derry.
In 1965, the campaign was led by the unionist mayor Albert Anderson, Eddie McAteer, leader of the Nationalist Party, and John Hume, who would become leader of the SDLP.
The protest had no impact on the overall decision but it may have saved Magee campus, which had been earmarked for closure, as part of the new university.
In 1963, the Stormont government brought in Sir John Lockwood, an educationalist from England who had set up universities in Africa, to examine the provision of third-level education here.
He formed a committee with seven others who were given six months to deliver their findings, in the end it took them about two years.
What became clear was that Northern Ireland needed a second university and though it was not their primary objective, the committee started to look at possible locations.
They visited both locations and heard submissions from some key figures. However, it is now known that Derry and Magee were ruled out early on in the process.
'Dumbfounded'
Now in his 90s, Des McCourt was a lecturer at Magee in 1965 and a key member of the committee set up to drive the university for Derry campaign.
"The political element at the time was not for Derry. It was insane to us to start building a university on a green field site when you had an excellent building and reputation in the second largest city.
"We were just dumbfounded. If we had got the same energy and information up earlier on I think the government would have been halted in its tracks and would have reneged."
One of the key reasons for the decision was the lack of a suitable student accommodation.
Derry had a big housing crisis at the time and it was felt there was better student accommodation in Coleraine. There was also a trend at the time to locate universities near seaside towns because of the seasonal variations in the population.
'Coleraine benefitted'
Coleraine, Portstewart and Portrush all benefited from having a university on their doorstep, which means the Lockwood Report is viewed in a very different light along the north coast.
Ulster Unionist councillor David Harding, a former mayor of Coleraine, said he believed the university was a major economic driver for the area.
"In a number of places where they've had an old established tourist economy they've established universities and it's balanced accommodation needs, your tourist offering lasts a lot longer and the students certainly bring valuable talents to the area.
"I've been keen to promote Coleraine but that doesn't mean that you can't want Londonderry to be the same and certainly it deserved a university. Looking back you can't understand why they didn't get it at the time but certainly the north coast benefitted from the decision."