Shackleton Barracks: 'Thousands of jobs' for Ballykelly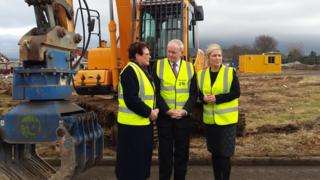 Martin McGuinness has said the redevelopment of a former army base in Ballykelly, County Londonderry will "create thousands of jobs".
Shackleton Barracks, a 14 acre site, is being demolished to make way for the Department of Agriculture's new base. Up to 700 civil service staff will be relocated to the town.
The Northern Ireland Executive recently sought suggestions from the private sector for developing the rest of the site.
The deputy first minister said he was hopeful they would be the 'big job' creators.
'Very exciting project'
"We're now seeing the demolition of former military buildings and we will very soon see jobs within the construction sector, people here effectively building the headquarters for an entire government department which will be relocated from Belfast to the north west.
"We have had over 40 other expressions of interest in this site, some of those are some of the most exciting prospects for jobs that I have heard.
"I have no doubt that we are going to create thousands of new jobs on this site which will be of immense benefit for people in Derry city, Limavady and Coleraine," Mr McGuinness said.
"This is a very exciting project."
'Full steam ahead'
The Agriculture Minister Michelle O'Neill and the deputy first minister were in Ballykelly to view demolition work and to meet with local traders and community representatives.
Michelle O'Neill said the £20m investment would provide a significant economic boost to the north west.
"It's great to see that we have so much support from all the local representatives and the local community to see what the plans are and the next step," she said.
"We would expect to have the first cohort of staff, up to 400, on site by 2017 so throughout the rest of the year the planning work will go on. Approximately 600 to 700 staff will eventually be on site. We've secured all the financial assistance necessary so it's full steam ahead."
Mark Vinnecombe from the Ballykelly community association said it was great news.
"Obviously it's fantastic, locally there's been lots of places closing down and lots of unemployment so it's good to see it go the other way and bring lots of employment to the area."
The Shackleton site was handed over to the Northern Ireland Executive for free by the Ministry of Defence in 2011.