Derry bomb believed to be 'mortar type device'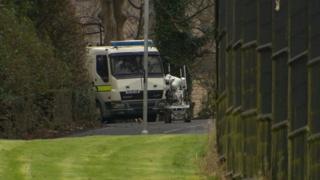 A bomb found during a security alert at a housing estate in Londonderry is believed to have been a "mortar type device".
The device was discovered in a laneway in Curryneirin on the outskirts of the city on Monday.
The police conducted a two-day operation during which dozens of people were moved from their homes.
The deputy first minister said those behind the attack have to be "unreservedly condemned".
'Trying to kill police officers'
"Whatever type of device it is, it is absolutely wrong for people in the context of a peace process to plunge us back to the past and I think the activities of those people have to be unreservedly condemned.
"It's quite clear that they were trying to kill police officers and we've worked hard over the course of the last 15 years in creating a police service which is in its own way still in transition but which has played its part in thwarting the activities of those who attempt to take the lives of people within society."
Martin McGuinness also responded to calls for bomb disposal officers to be sited nearer the north west.
The DUP's Gregory Campbell said that every time there was an alert army bomb disposal teams have to be dispatched from the east of Northern Ireland with up to a two-hour travel time.
"I think that's a matter for the police and those who have to deal with these types of situations," Mr McGuinness said.
"You could have situations like this in any part of the north of Ireland and I don't think that makes sense. What makes sense is for police to move in, secure an area and keep people safe."