Michael Mongan fails to have conviction overturned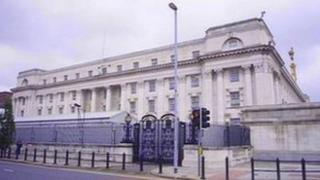 A man jailed for an iron bar and pistol-butt attack on a family in their home has failed in his bid to have his conviction overturned.
Michael Mongan, 24, was convicted in 2013 of assaulting Theresa Convery, her grandson Philip Convery and her son Martin Convery.
He was later jailed for 14 years.
Mongan's lawyers claimed there were flaws in how Mrs Convery and her grandson both identified him as having battered them during a botched robbery.
But judges in the Court of Appeal rejected claims that their evidence impacted on the fairness of the trial process and should have been excluded.
Dismissing the challenge, Lord Justice Coghlin said: "We are not persuaded that this conviction was in any respect unsafe."
A jury at Londonderry Crown Court also found him guilty by a majority verdict of attempting to steal £10,000 and with driving while disqualified and without insurance.
The victims were attacked at their home on the Mayogall Road, Magherafelt, in June 2012.
Two men had burst in armed with a gun and iron bar shouting: "Give us the money."
One of the intruders was said to have threatened to take 70-year-old Theresa Convery with him before hitting her on the hips, arms and legs with an iron bar.
Philip tried to come to his grandmother's rescue, only to be struck several times about the head and body with the iron bar.
The teenager, who had been revising for GCSE examinations at the time of the attack, sustained a fractured skull.
He had emergency surgery to remove a blood clot from the surface of his brain.
His uncle Martin also attempted to intervene and was hit both with the iron bar and with a firearm.
He escaped and flagged down a passing motorist who alerted the police.
Mongan, formerly of White Rise in the Dunmurry area of Belfast, centred his attempt to overturn his convictions on how identification procedures were handled.
His barrister said that Theresa Convery's evidence should only have been treated as a qualified identification of the defendant.
Proper guidance should then have been given to the jury on the weight to attach to it.
According to Mongan's legal team Theresa Convery provided no details of Mongan's facial features in her description of the man who beat her.
But Lord Justice Coghlin, sitting with Lord Chief Justice Sir Declan Morgan and Lord Justice Gillen, held that the grandmother's evidence was admissible.
Even if it was a qualified identification it supported and was consistent with a positive identification made by Philip Convery, the judge said.
"We are of the opinion that even if the jury concluded that the evidence of Theresa Convery amounted to only a qualified identification, the absence of adequate directions in the particular circumstances would not have made any difference to the ultimate verdict," Lord Justice Coghlin said.
Mongan, who appeared via a prison video-link, is now expected to launch an appeal against his 14-year sentence at a later date.