NIE worker 'threatened' in Derry by masked men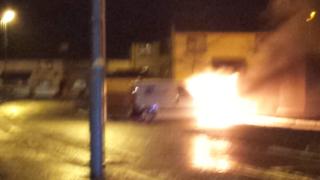 Northern Ireland Electricity says a worker was threatened by masked men in Londonderry last night and ordered to take a suspect package to a police station.
He was carrying out repairs at Linsfort Drive in Creggan when the incident happened at around 21:30 GMT on Wednesday.
The NIE worker ran away and his van was burnt out a short time later.
Twenty homes are still without power in the area.
Police later said nothing suspicious had been found.
An NIE spokesperson said the worker was ordered to take a suspect package to Strand Road police station.
"During an investigation into a fault on the underground electricity network in the Creggan area last night, an NIE emergency worker was approached and asked to take a suspect package to a local police station. The worker managed to escape the scene but his vehicle was set alight.
"Following the incident, Northern Ireland Electricity will be reviewing the situation this morning and will carry out repairs to restore electricity to the 20 homes affected as soon as it is safe to do so."
'Dissident elements'
Sinn Féin Councillor Kevin Campbell described the incident as "disgraceful".
"I visited the scene and local residents are very angry about what has gone on here.
"The people behind this attack need to step forward and explain the rational behind this.
"The staff were working on a nearby substation and they couldn't even finish their work.
"There's no doubt about it that there are dissident elements here."
Detective Sergeant Gillen of the PSNI said the incident happened around 21:30 GMT.
"At approximately 9.30pm, an NIE staff member was working at an electric box in the area when two masked men said that they had put something into the back of his van and he was to drive it to Strand Road.
"The NIE worker ran away instead and a report was made to police. The front of the van was set on fire while it was still parked in Linsfort Drive.
"The van has been thoroughly checked and nothing suspicious was found.
Detective Sergeant Gillen said: "I would appeal to anyone with any information about this incident to contact CID at Strand Road Police Station on the non emergency number 101."
Independent councillor Gary Donnelly told BBC Radio Foyle he was "baffled as to who carried out this attack".
"I'm not sure if republicans were behind this." said Mr Donnelly.
"Local residents don't know who is responsible for this. I'd love to find out what was behind this.
"This wouldn't be part of any republican agenda."