Derry burglary: car rammed into shop 'will cost thousands'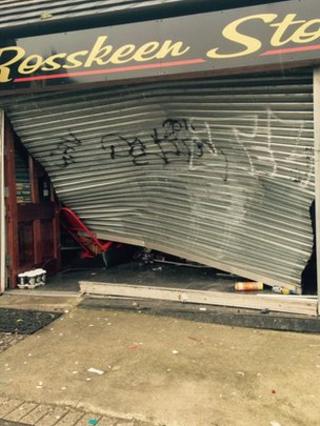 A Londonderry shop owner has said the repair bill for damage caused to his shop, after a stolen car was rammed into it, will be around £10,000.
Two men took £200 from the shop at Rosskeen Park at 04:00 GMT on Thursday before making off in the stolen car.
Police said the black Citroen C1 was stolen from the Shearwater area.
Shop owner Pat O'Reilly told BBC Radio Foyle: "This will cost us thousands but we'll pick ourselves up and get back to it though."
He added: "Shelving, freezers and shutters have been badly damaged.
"We have put so much money in to this place. The shop was going well too.
"We are going to be closed for a while and staff still have to get paid. This is just a nightmare."