Derry gritter stopped by three masked men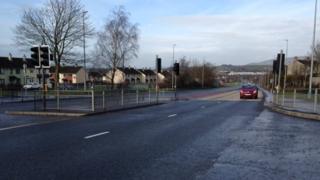 A gritter driver has been stopped by three masked men who told him to take what they said was an explosive device to a Londonderry police station.
The men threw the object into the back of the lorry on Alder Road at 5:30 GMT.
The driver was assaulted and told to go to Strand Road police station but he abandoned the vehicle on the Madams Bank Road.
Police have said nothing has been found in the lorry or in the area at this stage.
The Department of Regional Development said they were aware that one of their workers was involved.
The driver did not sustain any serious injuries.
'Terrifying'
PSNI Chief Inspector Tony Callaghan said: "This is absolutely terrifying for the driver of a gritter vehicle who is out trying to do his job," said Mr Callaghan.
"These three males pulled him over and told him there was an explosive device being put in the vehicle. Absolutely terrifying for this man.
"This is the second of these types of incidents where we see people out about doing their work trying to help people in the community.
"The first in Creggan yesterday where residents were left without electricity and now this."