Barry McCrory shooting: Kieran McLaughlin on trial for murder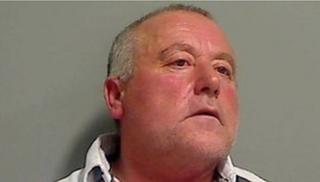 A 60-year-old man has gone on trial accused of carrying out an execution-style killing of a man in the centre of Londonderry in 2013.
Kieran Edward Joseph McLaughlin, from Elaghmore Park in Derry, appeared at Belfast Crown Court on Monday accused of the murder of Barry McCrory.
Mr McCrory was found face down on a bed in his flat on Shipquay Street on 10 October 2013.
McLaughlin denies murder and intent to endanger life.
'Shotgun'
There was silence in court when CCTV footage showed the killer, who the prosecution claim is Kieran McLaughlin, enter the apartment block where Barry McCrory lived.
The man, wearing a hood and goggles, can be seen checking out room numbers.
The prosecution say the killer then forced his way into a flat. The victim's girlfriend had to wait in another room while the killing was carried out.
The court was told that a post mortem examination showed Mr McCrory sustained four shotgun wounds from a range of two metres or less. Two of them were to the back of the head, one was to the upper chest and one to the lower back.
The deputy state pathologist said the two gunshot wounds to the head caused extensive fractures to the skull and severe damage to the brain, adding that death would have been "rapid''.
The court heard that after the killing, CCTV footage showed a man matching Kieran McLaughlin's description getting into a taxi to St Joseph's Church in the Galliagh area of the city.
The taxi driver said McLaughlin was wearing goggles and that he knew him and his voice.
McLaughlin has already pleaded guilty to having a sawn off shotgun, a Mauser pistol and bullets in suspicious circumstances.
The case continues.