Derry city freedom: Retired Bishops Daly and Mehaffey 'honoured'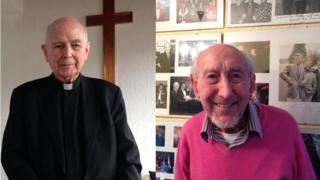 Two retired Londonderry bishops say they are 'honoured' to receive the freedom of the city.
The move was agreed at a special meeting of Derry City Council in the Guildhall on Tuesday.
Dr Edward Daly and his Church of Ireland counterpart James Mehaffey have been praised for their cross community leadership during the Troubles.
The two friends will be honoured at a special ceremony on the 24 March.
'Stood together'
Speaking for the first time since the honour was announced, Bishop James Mehaffey told the BBC's Keiron Tourish that he shared a very close relationship with Dr Daly.
"It came as a surprise that we would be honoured like this. When I was consecrated a bishop in St Columb's Cathedral Bishop Daly was there and from the beginning we have stood together and often met and talked things through.
"I think that it takes two people to work together and we found that in spite of our background in different churches, different theology, we had a lot in common. That goodwill, working with people and reaching out to all kinds of people was important.
"I didn't pretend that I was a Roman Catholic and he didn't pretend that he was Church of Ireland."
'Close Friends'
Dr Edward Daly said he was happy to be able to share the honour with his colleague and long time friend.
"I don't want fanfare so I was very surprised and honoured by it. Bishop Mehaffey and I we were colleagues as well as close friends, we still are very close friends. I'm delighted that the award has been made to the two of us jointly.
Reflecting on their role in Derry during the troubles, Bishop Daly said it showed what could be done when communities come together.
"It was a very difficult time, a different kind of difficulty that I face now. Difficult to show leadership when there was so much polarisation at the time but I hope that at least we gave some kind of lead in that regard and that people of different communities can work together and work successfully together."