Barry McCrory murder: Accused says he would not 'hurt anybody'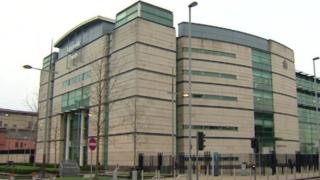 A 60-year-old man accused of shooting a man dead in a flat in Londonderry has denied he knew the victim and claimed he would not "hurt anybody", a court has heard.
Kieran Edward Joseph McLaughlin, from Elaghmore Park in Derry, is charged with the murder of Barry McCrory.
Mr McCrory was found face down on a bed in the flat on Shipquay Street in October 2013.
The court heard Mr McLaughlin had told police he was "not guilty of anything".
The father-of-six was arrested on 16 October after being found lying under a car in the Rossnagalliagh area of the city.
He is also charged with possessing a sawn-off shotgun, shotgun cartridges, a Mauser pistol and ammunition with intent to endanger life and possessing an imitation Walther pistol.
Last week, he pleaded guilty to possessing the shotgun, pistol and ammunition in suspicious circumstances.
On Thursday, Belfast Crown Court heard transcripts of police interviews with the accused following his arrest.
Mr McLaughlin, who was asked if he knew the victim, repeatedly replied: "I don't know who he is, I don't know anything about him."
He told officers he had seen Mr McCrory's family on TV and that he "felt sorry for them".
The defendant also said he had been in possession of a handgun in order to protect both himself and his family.
Mr McLaughlin was also asked about seeing his own picture in the papers in connection to the murder. He said that despite people thinking he had something to do with it, he did not.
He told police: "I am not guilty of anything. I wouldn't hurt anyone intentionally."
The case continues.