Sinn Féin Ard Fheis in Derry for the first time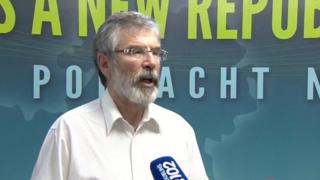 Two thousand delegates are expected in Londonderry this weekend for Sinn Féin's annual party conference.
Used to determine party policy for the year ahead, it is the first time the party's Ard Fheis has been held in the city.
A Loyalist bands group is expected to attend and give a presentation to delegates on Saturday.
Sinn Féin said last year's event in County Wexford generated more than £1m in revenue for the local economy.
Speaking to BBC Radio Foyle, Gerry Adams was asked if he thought he was an asset or liability to the party. He said he believed he made a positive contribution to Sinn Féin.
"I'd like to think like all other activists that I contribute and do my best. I'm very pleased to be part of the team that has brought the party's largest vote it's ever had, I'd like to think I had some small part to play in that.
Responding to questions about the party's anti-austerity opposition in the Republic while being involved in the implementation of job cuts at Stormont, Mr Adams said they had tried to blunt the worst effects of the cuts.
"The price we have to pay for the union is austerity, why should people in Derry or anywhere else in the six counties have to put up with decisions that are taken by millionaires in London?
"People are intelligent and can see that the parties who are currently in power in Dublin made a multitude of promises and then broke every single one of them.
"Sinn Féin have kept every commitment we have made."