Eddie Kerr: Former charity director convicted of ten charges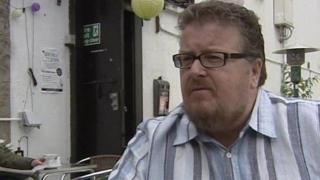 The former director of a Londonderry charity will be sentenced next month after he was convicted of ten charges linked to fraudulent applications for grant aid.
Eddie Kerr, 61, was acquitted of a further five charges.
Mr Kerr, a former schoolteacher from Ashfield Terrace in Derry, was the former director of the charity SEEDS.
He faced a total of 15 charges relating to double funding applications.
The applications were made to the Office of the First and Deputy First Ministers (OFMDFM) and to Derry City Council between 2009 and 2011.
A prosecution barrister said the 15 charges fell into three primary brackets:
The forgery of another man's name on application forms for grant aid to run the charity SEEDS and to pay Mr Kerr's salary of £30,000.
Presenting the other man's name as a genuine signature and lodging the forms to obtain money.
Fraudulently and knowingly submitting false funding application forms with intent to expose the OFMDFM to a financial loss.
Judge Donna McColgan has ordered the preparation of a pre-sentence report and also agreed to a defence application for a psychiatric report.
A defence barrister said the psychiatric report was to highlight the level of stress and strain Mr Kerr had been living under for the last three years.
Mr Kerr has been released on continuing bail until he is sentenced for the offences in April.