Barry McCrory shooting: Kieran McLaughlin found not guilty of murder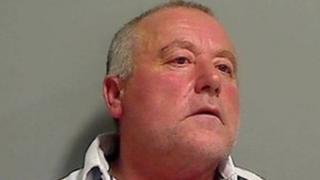 A Londonderry man has been found not guilty of murdering Barry McCrory at a city centre flat in 2013.
Kieran Edward Joseph McLaughlin, 60, from Elaghmore Park, had consistently denied murdering Barry McCrory, who was shot dead in October 2013.
He was found dead in bed at a flat in Shipquay Street.
When the verdict was read out acquitting Mr McLaughlin, of what the judge described as a "cold and callous killing,'' there was uproar.
Tearful relatives of the deceased were at Belfast Crown Court to hear the ruling.
'I feel sick, very sore'
Mr McCrory's mother Ann said she felt justice had not been done.
"Barry got a terrible death, he didn't deserve the death that he got," she said.
"We have sat nearly three weeks here up at these courts.
"We've watched some horrific, very sad, pieces. We've watched Barry's last moments of his life on these videos - it's been very hard for us as a family.
"Today I feel sick, very sore, heart-broken about Barry and I just feel that justice was not done today for him."
In delivering his reserved judgement, Judge Mr Justice Horner, who sat alone without a jury in the diplock case, said there was no forensic evidence to link Mr McLaughlin to the killing.
"The court must conclude that the charge of murder against the defendant has not been proven to the requisite standard,'' the judge told the court.
"The Crown has not discharged the heavy burden of proof placed upon it to prove beyond reasonable doubt the defendant committed the murder of the deceased.''
However, the judge found Mr McLaughlin guilty of possessing the loaded sawn-off double barrelled shotgun and a Mauser pistol with intent to endanger life.
Mr McLauglin had previously pleaded guilty to possessing the firearms and a quantity of ammunition in suspicious circumstances.
He will be sentenced in May following the preparation of a pre-sentence report.