Derry B&Q to close with the loss of 60 jobs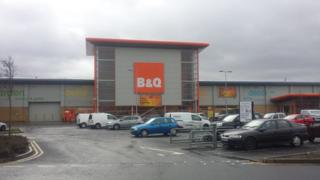 The BBC understands that B&Q stores in Belfast and Londonderry are set to close at the start of next year.
It's understood that staff at the shops on the Boucher Road and Buncrana Road were told on Tuesday that the stores will stop trading in January 2016.
The closure of the Buncrana Road store in Derry will see the loss of 60 jobs.
Kingfisher, the DIY chain's parent company, is to close about 60 B&Q stores in the UK and Ireland over the next two years.
A B&Q spokesperson said: "We can confirm we are speaking to staff at the B&Q Londonderry store regarding the closure of this store next year."
Sinn Féin MLA Maeve McLaughlin said staff were worried for their future.
"We need clarity, if this is about profit the company needs to step up and indicate how locations are identified and the issues we're dealing with."
The company plans to open new outlets under its Screwfix brand this year, they already have one store in the city based at the Springtown Road.