Derry Housing: Some residents angry over Glen Road plans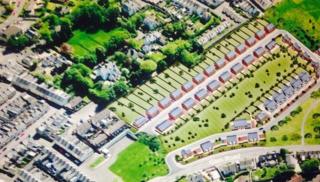 Some residents have voiced their opposition to proposals for a new housing development on the Glen Road, Londonderry.
Representatives from Apex housing association were criticised by around 60 residents at a public meeting in the city on Wednesday.
Greater anti-social behaviour, congestion and the loss of a green field site were the main concerns.
Up to 80 new social houses and a community centre are planned.
Faustina Rodgers is a fierce opponent of the development.
"The plans show a three storey house which is planted right in front of mine and blocks out my light completely. They expect me to sit in the dark after struggling all those years to pay a mortgage?"
Majella Gallagher said her fears were not allayed by what she heard.
"It's a case that these new houses are necessary but they haven't even looked at the houses that are sitting derelict in the nearby areas such as Carnhill and Creggan which aren't being used."
Gerry Kelly, Chief Executive of Apex, said social housing did not always bring anti-social activity.
"Some people are very supportive of the development and it comes down to weighing up the need for social housing.
"We're here, we're the landlord and we've invested heavily in this scheme so we'll be there to deal with anti-social behaviour and to get families to live in harmony."