Drumahoe alert: Three 'viable' pipe bombs made safe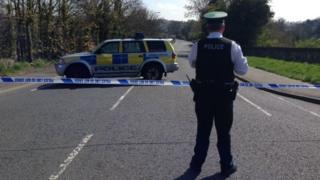 Three pipe bombs have been made safe by Army bomb experts in County Londonderry.
A member of a public discovered the devices in Drumahoe, on a riverbank near a pub car park at about 10:30 BST on Wednesday.
Police described the pipe bombs as viable.
Ch Insp Alan Hutton said they were designed to kill or maim.
"At this stage it is not clear whether the devices had been abandoned in the area or left for later collection," he said.
"This is an area used by fishermen or people at the car park, and we believe that they posed a real danger to anyone who would have disturbed them.
"It is too early to apportion responsibility or to say who a likely target may have been."
The Drumahoe Road was closed for a time while the devices were examined, but has since reopened.