Two cars targeted in suspected arson in Londonderry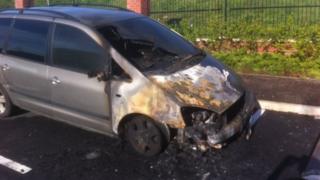 Two cars have been set alight in suspected arson attacks in the Creggan area of Derry on Friday.
A Ford was destroyed at Ballymagowan Park at around 02:00 BST and a Vauxhall was also extensively damaged in Cromore Gardens.
The Northern Ireland Fire Service attended both incidents and police are treating them as linked.
Sean McMonagle from Ballymagowan Park said it was not the first time he had been targeted.
"Criminals and cowards have attacked and burnt our family car at the house. I woke up at about 2am to see my wife's car burning.
"We have four children and although they slept through it last night, it's quite a shock for them to be told this morning.
"My car was attacked before as well as graffiti on my home."
There are no reports of any injuries.