Philippa Reynolds death: Ballykelly man charged with drugs offences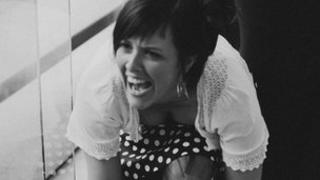 A man from County Londonderry, who was jailed last year for his involvement in the death of a police constable, has been charged with drug offences.
Conor Tyrone Clarence, 25, from Church Hill Road in Ballykelly, admitted possessing amphetamines and ecstasy in Limavady on 6 May 2015.
Constable Philippa Reynolds, 27, was a passenger in a police vehicle on 9 February 2013.
A stolen car crashed into the police vehicle in the Waterside.
Clarence was jailed for 21 months in February 2014 after he pleaded guilty to a charge of stealing a 4x4 car and guilty to a charge of allowing himself to be carried as a passenger in a stolen vehicle.
The car was driven at speeds of up to 80 mph along Clooney Terrace before it crashed into an unmarked police car at Dale's Corner.
As well as being jailed for 21 months for the offences Clarence was also released on licence for 21 months.
He was released from prison on licence last November and following his admissions to the drug offences he is now in breach of his licence conditions.
A police officer told the judge that at 17:30 GMT on Wednesday, members of a police mobile patrol saw Clarence staggering along Benevenagh Drive in Limavady.
The officers stopped to speak to him about an alleged theft and they noticed that he was highly intoxicated, that his speech was slurred and that his eyes were glazed.
Clarence was placed into the police car where officers saw him putting a plastic bag into his mouth.
The officers managed to retrieve the bag and found that it contained white powder and several ecstasy tablets.
They found more tablets inside his trousers pocket. Clarence denied that he intended to supply the drugs and told the police they were for his personal use.
A defence solicitor told Londonderry Magistrates' Court on Friday that Clarence was on licence on other very serious matters.
He said Clarence bought the drugs for £60 shortly before his arrest.
"He suffers from a very serious skin complaint," said the solicitor.
"He asked his general practitioner to prescribe something to relieve the pain. Since his release from prison on licence last November, he has endeavoured to rebuild his life.
"He suffered from depression while in jail following the death of Constable Reynolds whose death weighed deeply on him and for which he was extremely remorseful."
The judge said Clarence was entitled to full credit for admitting the offences at an early stage.
He fined Clarence, who has 51 previous criminal convictions, three of them for drugs offences, £500 and ordered the destruction of the drugs found on Clarence.
The court was told that Clarence's breach of his licence conditions would be referred to the Department of Justice (DoJ) by the police.