Bob & Berts coffee chain to create 30 new jobs in Limavady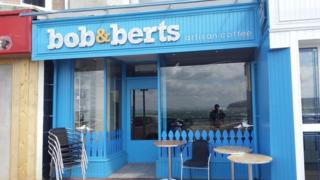 A coffee shop chain is to open a new store in Limavady, County Londonderry, creating 30 new jobs.
The jobs are to be a mixture of full and part-time positions.
Bob & Berts managing director Colin McClean said: "We're going to have kitchen staff, a couple of chefs and a couple of kitchen porters.
"We'll also have people on the counter as well as baristas, people serving food and obviously people doing the clearing up."
The new store, which opens in July, will bring the chain's total number of outlets to eight.
Mr McClean added: "Unemployment in Limavady has been pretty rife over the last number of years but with Ballykelly being turned into the headquarters of DARD and hopefully that will create a few more jobs which along with ourselves will mean a bit more money in the town."