Bridget Mongan: Derry bus lane woman admits assault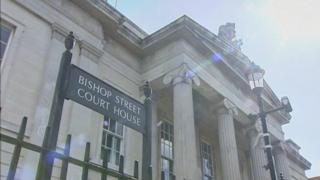 A 24-year-old woman from Londonderry, captured on camera being left in a bus lay-by by two police officers, has pleaded guilty to committing three public order offences on the same day.
Bridget Patricia Mongan, whose address was given as Foyle Valley House on Foyle Street, appeared at Londonderry Magistrate's Court on Tuesday.
She admitted assaulting her boyfriend, obstructing a police officer and committing disorderly behaviour on St Patrick's Day 2014.
It happened minutes before she was lifted off the road in John Street by two police officers who then placed her in a bus lane.
Bridget Mongan was incapacitated at the time.
The BBC obtained CCTV footage that showed the moments leading up to the incident.
Mongan's formal complaint to the police ombudsman about the way she was treated by the two officers was upheld and they were later disciplined.
Bridget Mongan's partner, 42-year-old Martin McLaughlin from Lisnafin Park in Strabane, pleaded guilty to assaulting her during the same incident at John Street.
The sentencing of both Mongan, who has 25 previous convictions, and of McLaughlin, who has 64 previous convictions, has been adjourned until 3 July.