Exploding fridge at North West Regional College injures woman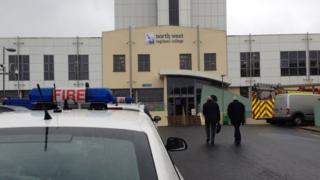 A woman has been injured at the North West Regional College (NWRC) in Londonderry after a fridge exploded.
Part of the college on the Strand Road was evacuated at about 08:30 BST. The explosion happened in the college canteen.
The woman, who works in the canteen, was taken to hospital for minor injuries.
Three fire engines from the Northern Ireland Fire Service attended the scene.
In a statement, the NWRC said it was due to "a failure in one of the aisle chilling units in the Tower canteen."
"One member of staff was taken to A&E for minor injuries sustained during the incident and has subsequently been released.
"The Tower building was re-opened at 10.20am. Other buildings in the College's Strand Road campus were not affected."