Limavady fire: Petrol 'poured' through letterbox in arson attack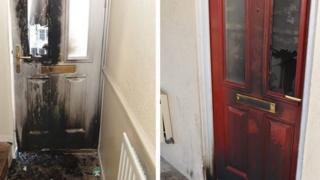 A Limavady man said he is 'too scared' to return to his home after it was targeted in an arson attack.
Petrol was poured through Dominic Allen's flat at Kennaught Terrace on Sunday at around 02:00 BST.
The police are treating the fire as deliberate. One man and two police officers were treated for smoke inhalation.
Mr Allen, who was not at home when the attack happened, said he was in a state of shock.
"I got a phone call from my sister to say my flat was on fire and I says 'you're joking'.
"When I landed at the scene it was all cordoned off by the police," said Mr Allen.
"There was petrol poured in through the letter box, I could have been dead."
'Everything is black'
Dominic Allen told BBC Radio Foyle he did not know why his home was targeted.
"All my property was destroyed, clothes destroyed and everything's black.
"I've done things in my past that I've regretted but I'm staying out of trouble now, I don't get into bother anymore.
"I have to start again from scratch to rebuild a home. I haven't really the money.
"I wouldn't go back into that house again, I'm not going near it again."