Papa Busty's: Fire badly damages second Londonderry city centre take-away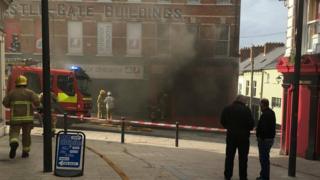 A pizzeria has become the second business in Londonderry to have been badly damaged by a fire in the past few days.
The blaze happened at Papa Busty's take-away, on Waterloo Street, at about 16:30 BST on Monday. The take-away has only been open for five weeks.
The Fire and Rescue Service said the blaze was started accidentally.
On Sunday the Rainbow Chinese take-away on Carlisle Road was also damaged by fire.
Paul Quinn's 21-year-old son, Darren, owns the pizza business. Mr Quinn said he was devastated.
"It's a new business, he came back from England with his girlfriend, it's only open five weeks," he said.
"Business was picking up great, they were very happy with it. They put everything into it so it's very upsetting.
"It's just unfortunate, but I'm just glad there were no lives lost or people hurt."
Jonathan Tate from the Fire and Rescue Service said it was a very difficult blaze to deal with.
"There were 30 firefighters here to deal with the incident. The damage to the take-away is significant."
Mr Tate told BBC Radio Foyle that the inside of the business was "destroyed".
The take-away is on the bottom floor of a three-storey building. The two flats above the restaurant are derelict.