Londonderry: Stone throwing in Galliagh stops Translink bus service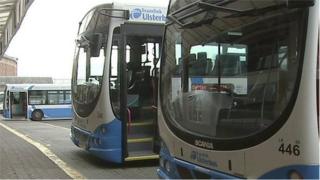 Translink temporarily withdrew bus services from the Galliagh area of Londonderry after several stone throwing incidents by young people.
A number of windows were broken in the attacks, the latest of which happened on Monday night.
Translink said the safety and welfare of customers and staff is their top priority. The service resumed on Tuesday.
Sinn Féin councillor Tony Hassan has condemned the attacks.
"Translink are saying that this problem has been there for the last three or four weeks but that on Monday night it was the worst incident yet.
"The driver, and some of those on the bus, stated that some of these young people were around the age of 12 or 14 years of age.
"Parents need to know what their children are up to. There's about three or four thousand people relying on that service," Mr Hassan said.
A Translink spokesperson said: "We can confirm that 4 incidents of stoning have occurred in the past few weeks on Ulsterbus services in the Galliagh area resulting in broken windows.
"We strongly condemn this dangerous behaviour. Following the latest incident last (Monday) night, bus services were withdrawn from the area at 8pm.
"If these attacks continue more services will have to be withdrawn to uphold our duty of care for staff and customers," Translink said.