Derry mayor defends decision to wear mayoral chain on prison visit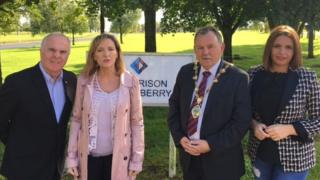 Derry City and Strabane Council's mayor has defended wearing the mayoral chain outside Maghaberry jail after visiting a dissident republican prisoner.
Maolíosa McHugh, from Sinn Féin, was photographed with a party delegation outside the prison on Friday, after they visited inmate Tony Taylor.
Taylor was jailed for 18 years in 1994 over a bombing.
Maurice Devenney, a unionist councillor, said the move had angered people as the mayor should be neutral.
However, Mr McHugh said the prisoner's continued detention was unjustified.
Taylor was freed on licence under the terms of the Good Friday Agreement, but his licence was revoked last year and he was sent back to jail.
"I was only too glad to be part of an elected body of representatives from this area who had gone along on this visit and had the opportunity to meet Tony Taylor," said Mr McHugh.
"I wore the mayoral chain when we had left the prison to emphasise the point that, as mayor, I am representing one of our citizens who has been denied his human basic rights."
Mr Devenney, an independent unionist councillor, said that the mayor's decision to wear his chain of office during the prison visit has alienated unionists.
"The mayor has to show a neutral stance and independent," he said. "There is huge anger in the unionist community.
"I have no problem with the mayor visiting Tony Taylor, but not wearing the mayoral chain."