Belfast shopping centre Christmas ad sparks Derry backlash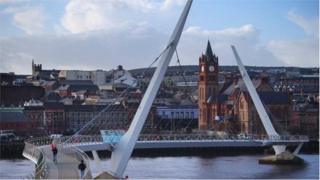 A pop-up billboard that appeared in Londonderry encouraging Christmas shopping 70 miles away in Belfast has drawn criticism in the north west.
The ad promoting Victoria Square shopping centre appeared at various locations in Derry city centre on Thursday.
Derry City and Strabane District Council said the sign did not have planning permission.
They confirmed an investigation is under way.
Business woman Kiera Duddy said it was disappointing to see the sign displayed prominently in Guildhall Square on Thursday.
She said it undermined efforts to promote trade in Derry.
"People have the right to shop where they choose, but there is a lot of work going on here at the moment to encourage people to shop locally and people are really getting behind that."
The café owner said the reaction on social media showed the "huge level of support businesses here have" in promoting local trade.
A spokesperson for Derry City and Strabane District Council said they made aware of the issue on Thursday morning.
"Planning permission was not sought for the erection of an inflatable sign in the city centre and officers are investigating the issue at present," he added.
Victoria Square said they did not wish to comment when contacted by the BBC.