Irish Open: Sewerage system plan to cope with 'stink'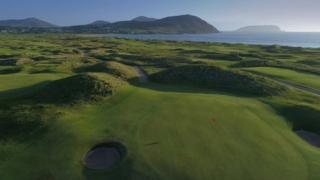 Irish Water has moved to allay concerns that a "maxed out" sewerage system in Donegal will not cope with an influx of Irish Open golf fans.
Ballyliffin Golf Club, on the Inishowen Peninsula, hosts the Open in July.
Tens of thousands of fans, tourists and the world's golfing media are expected to descend on the village during the tournament.
Irish Water say a plan is now being developed to ensure the system can cope with the visitor numbers.
Last week, the Derry Journal reported that a meeting of Inishowen Municipal District Council was told the sewerage (waste water) treatment plant, is "maxed out and stinks out the village during the summer".
Fine Gael Councillor Bernard McGuinness told the meeting: "Out of everything that needs done in Ballyliffin before July this is the most serious.
"The treatment plant is maxed out during the summer. That's before we even have the Irish Open."
In a statement, Irish Water said: "Irish Water is no stranger to putting in place contingency plans for major events and the Dubai Duty Free Irish Open will be treated in the same way as other events which have successfully taken place across the country.
"The Ballyliffen Golf Club have outlined their requirements to ensure the smooth running of the competition and Irish Water, working in partnership with Donegal County Council are confident that there will be adequate interim arrangements in place in terms of water supply and wastewater requirements to meet the needs of the event."
Irish Water is due to meet councillors and event organisers in Ballyliffin later this week.
This year's Irish Open will be held from 5-8 July.