Carer who stole almost £11,000 from elderly woman jailed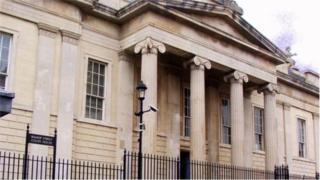 A carer has been jailed for ten months for stealing £10,700 from an elderly woman she was employed to look after.
Glenda Henry, of Parkmore Drive in Magherafelt, was sentenced at Londonderry Crown Court after pleading guilty in February of last year.
She stole the money from her 81-year-old victim, who has since died, over an eight month period.
The judge described the offences as a "gross abuse of trust."
Henry had initially been given a 12 month deferred sentence to enable her to pay back £5,000 to her victim's family.
But she was jailed after her barrister told the court she was unable to repay any of the money.
The court was told the victim's daughter reported irregularities in her mother's debit card transactions to police in March 2016.
A prosecution barrister said at this time the victim had already stopped using ATMs because of illness and instead dealt with Bank of Ireland branch staff in Magherafelt.
A bank investigation revealed that in June 2015, £1,000 was transferred from the lady's savings account to her current account.
Within a week, the money had been withdrawn following four £250 ATM transactions.
The court further heard that in November 2015, the victim transferred £6,000 from her husband's account into her own current account.
Within two months, that money had been withdrawn from her account via ATM transactions when the victim was in hospital.
The Bank of Ireland then informed the victim, that her account was overdrawn. She died in May 2016, three months after receiving the letter from the bank.
A subsequent PSNI investigation showed Henry on CCTV footage withdrawing money from an ATM in Cookstown. She made multiple withdrawals over an eight month period.
When arrested Henry denied stealing the money. She said the elderly lady had given her the bank card and PIN number to buy toiletries.
However in a second police interview, Henry admitted she had pushed the boundaries too far and had used the card for herself, a prosecution barrister said.
A defence barrister said it was both a breach of trust case and a breach of public confidence case.
He said Henry was a single mother-of-five who had no previous convictions and who was now chronically disabled.
Judge Philip Babington said Henry had previously been an employee of the public health-care system before she was approached by the victim's family to work for them on a private commercial basis.
He said her offending was pre-mediated and pre-planned and that she had been given a chance from February of last year to repay £5,000.
"I am sending you to prison because you deserve to go to prison. You took advantage of an elderly lady who at times was in hospital when you stole her money," he said.