Claudy bomb: Victim's brother calls for end to NI deadlock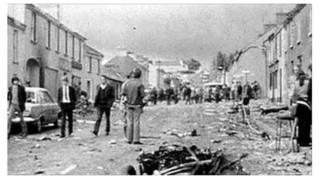 The brother of the youngest victim of the 1972 Claudy bombing has urged Northern Ireland's main parties to end the current political stalemate.
Nine people, Protestant and Catholic, were killed when three bombs exploded in the County Londonderry village in July 1972.
Mark Eakin lost his sister Kathryn, who was 8-years-old when she died.
He said Troubles legacy issues can not be resolved without the reintroduction of power sharing.
"People have to talk. If you don't talk you will never get anything sorted out. There is no way it will just sort itself out," he told BBC Radio Foyle.
"Let's try and get the peace process back on track. If we can get Stormont up and running again then we might start to get some answers," he said.
Northern Ireland has been without an Assembly since January 2017.
The devolved government collapsed in a row over a botched green energy scheme.
No one has ever been charged in connection to the Claudy bombing.
In 2010, a Northern Ireland police ombudsman's report said detectives had concluded that the late Father James Chesney, who was later moved to the Republic of Ireland, was a suspect.
It said the police, the state and the Catholic Church had covered up his suspected role in the bombing.
No action was ever taken against Fr Chesney, who died in 1980.
Kathryn Eakin, the youngest victim, was cleaning the windows of her family's grocery store when the first bomb exploded.
The other people killed were Joseph McCloskey 39, David Miller aged 60, James McClelland 65, William Temple 16, Elizabeth McElhinney 59, Rose McLaughlin aged 51, Patrick Connolly, 15, and 38-year-old Arthur Hone.