Man arrested over PSNI murder attempt released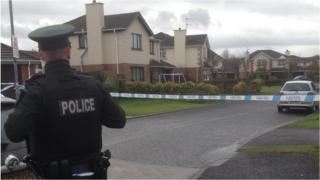 Police investigating the attempted murder of a PSNI officer in Londonderry have released a 49-year-old man arrested in the city earlier on Tuesday.
An improvised explosive device was put under the off duty officer's car while he was at home on 22 February 2017.
The device was discovered outside his family home in the Ardanlee area of Derry when it failed to detonate.
The PSNI said the man was arrested in the Creggan area.
He was released unconditionally on Tuesday evening.
Four people have previously been arrested in connection with the attempted murder but no one has been charged.
Police have linked the device to a previous incident in the Ballyarnett Village area of Derry in October 2014.
The PSNI officer leading the investigation, Det Insp Peter McKenna, said he believed a group calling itself The New IRA were responsible.
"If this device had exploded with our colleague and his young family in the car it would have had devastating consequences," he said.
"We believe the New IRA are responsible for this cowardly attack during which they put the safety of all members of the community at risk as the device was left in a residential area and could have exploded at any time."