Eight in court after republican Easter parade in Derry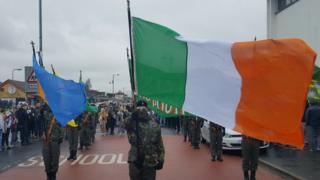 Eight men have appeared in court in Londonderry in connection with an illegal republican Easter parade in the city.
The men are charged with taking part in an unnotified public procession in the Creggan area of Derry on 2 April.
All eight deny the charge. A ninth defendant was not in court due to illness.
The accused have been released on continuing bail until 30 May.
There was a significant police presence both inside and outside Londonderry Courthouse.
The men to have appeared in court are:
William Martin McDonnell, 30, of Harvey Street
Paul McIntyre, 50, of Ballymagowan Park
John Patrick Nash, 64, of Fergleen Park
Thomas Ashe Mellon, 42, of Rathmore Road
Gary Hayden, 47, of Tyrconnell Street
Joseph Barr, 29, of Sackville Street
Patrick Mellon, 26, of John Friel Place
Andrew Carlin, 30, of Woodvale Mews
A PSNI officer told Deputy District Judge Peter Prenter he could connect all the defendants with the charge.
The defendants spoke only to confirm their names, addresses and dates of birth.
A solicitor for the Public Prosecution Service said the full file in the cases was not yet ready. The case was adjourned until 30 May.
Separate charges
Meanwhile the PPS solicitor told the court the prosecution was to proceed with separate charges against two of the men
Joseph Barr is charged with permitting the display, at premises in Chamberlain Street, of an offensive poster containing the graphic photograph of a nude man with a gun and with literature referring to a deceased police officer.
He denied committing the offence on 5 October 2017.
Mr Barr also denies a further charge of exhibiting to public view an image of an armed snowman stating "wishing you an explosive Christmas" in premises at Chamberlain Street on 23 October 2017.
William McDonnell faces the same charge in connection to the snowman painting and also with painting the image.
That case was adjourned to 9 May.