Maghaberry officer suspended after 'note plant' report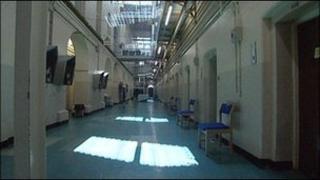 A member of staff at Maghaberry prison has been suspended after a report into the alleged planting of a note in the cell of a dissident republican suspect.
The Prison Service said the suspension was a precautionary move in line with its disciplinary code.
A criminal inquiry has begun after the prisoner ombudsman said a prison officer likely planted the note.
The governor of Maghaberry Prison at the time, Steve Rodford, resigned a short time after the note was found.
He feared he was under threat after his personal details were found on the note in the cell of dissident republican Brendan McConville
The prison ombudsman's report came 15 months after Mr McConville's solicitor said his client "was set up".
Mr McConville is now likely to further challenge a murder charge against him.
Kevin Winters, the solicitor representing Mr McConville, said: "A key component of the investigation will be whether or not this was an isolated act or indeed, whether or not a person or persons were acting in concert.
"I think the material does show that finding, that in effect more than one person may have been involved."
He also said Mr McConville would challenge the case against him over the murder of PSNI officer Stephen Carroll.
'Hidden in cell'
The note was found in the suspect's cell in December 2009.
Prisoner Ombudsman Pauline McCabe concluded in her report that the note was hidden in the cell by a member of staff opposed to planned reforms at the prison.
Mr Rodford resigned less than five months after he was appointed.
Security was one of the factors in his decision as his wife had left Northern Ireland weeks earlier because of concerns they were being targeted by dissident republicans.
The ombudsman has now said that, "on the balance of probabilities" the note was planted in the cell by a member of prison service staff and that the purpose was to encourage the governor to reconsider the planned changes.
Ms McCabe has also concluded that prison staff leaked incorrect information to the media that Mr Rodford was being actively targeted by dissident republicans.
The ombudsman said there were reasonable grounds to indicate that one member of staff may have committed a disciplinary and criminal offence.
The police have now launched a criminal investigation.
In a statement, the prison service said it took the matter very seriously and had launched a disciplinary investigation, which has been adjourned until the police complete their inquiry.
It confirmed it had received a copy of the Prisoner Ombudsman's report following a complaint by prisoner Brendan McConville.