Vulnerable care next NI Assembly's 'greatest challenge'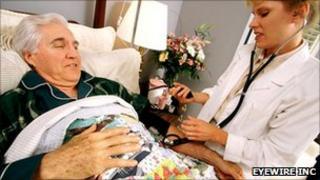 Providing care for vulnerable people and the elderly will be the greatest logistical and financial challenge for the next Assembly, according to the Independent Health and Care Providers.
It has said £50m per year could be saved through more care being provided by the independent sector.
The organisation plans to meet election candidates in residential and nursing homes over the coming weeks.
It wants up to 75% of residential care provision by the independent sector.
Chief executive, Hugh Mills has said a review is needed of how care is provided.
"Put simply, there isn't the money to go around anymore, and we need to find new ways of providing services for the care of older and vulnerable people whilst retaining and augmenting the quality of service provided," he said.