U2's Bono played by Belfast's Martin McCann in new film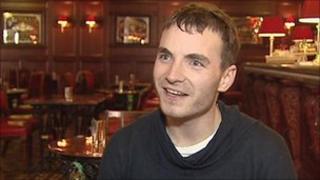 From the Divis Flats to Hollywood, Martin McCann has come a long way.
Starting with a modest role in the short film The Rules of Golf in 1998, Martin has starred in everything from TV shows like Pulling Moves to blockbuster films like Clash of the Titans.
Now Martin, from the Falls Road in Belfast, is playing another famous Irish export. He stars as U2's frontman in Killing Bono.
The film was directed by Belfast man Nick Hamm and was mostly filmed in the city.
Is premiere was at the Belfast Film Festival on Thursday.
Killing Bono tells the story of Dublin schoolboy Neil McCormick and his brother Ivan who dream of being rock stars.
Unfortunately for them, they are forced to watch as school friends Paul Hewson, Dave Evans, Larry Mullen Jr and Adam Clayton conquer the world as U2.
"Neil McCormick went to the same school as Bono, he was in the same year and he wanted to be a rock star just like Bono," Martin explained.
"He was very competitive, it shows his downfall, his struggles through moving from Ireland to London to make it in the music industry and Bono and U2's simultaneous meteoric rise to world domination."
'Challenge'
Martin said making the film was a "great experience".
"I've made a few films before, but this was special in the sense that I filmed it at home and I was playing Bono and he's so in the public eye," he said.
"It was so much of a challenge to get him and do it right. Because you put yourself out there on a limb as an actor and if a lot of people go to the cinema and watch me playing Bono, if I do it badly then I'm a bad actor, but if I do it well then, fingers crossed, people will receive it well."
Despite the actor's resemblance to a young Bono, Martin said the similarity was not something he had been aware of before the film.
"I was in London and my agent called me up and said 'Would you like to audition for Killing Bono?' I didn't expect her to say audition for Bono, I just expected some other random supporting part," he said.
"To be honest, I'd never had people saying you look like Bono or anything like that. So I just went along to the audition. Beforehand, I watched a lot of his earlier footage and got a little bit of insight into a young Bono.
"I went along and auditioned and got the part."
Killing Bono is now on general release in cinemas.