SDLP leader Margaret Ritchie in 25-year Treasury plan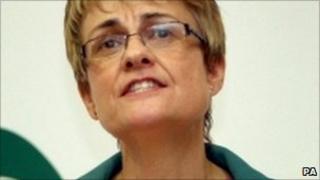 Northern Ireland needs a 25-year economic framework to help Stormont ministers rebalance the local economy, SDLP leader Margaret Ritchie has said.
Ms Ritchie told the Northern Ireland Chamber of Commerce: "Let us have a 25-year framework economic and financial compact with the Treasury."
She said this would "map out the future in terms of tax-varying powers, the creation of our own social security system and the long-term delivery of the block grant".
She said they would "very gradually reduce the subvention in the long-term" but a guaranteed level of Treasury support was needed, "even if the constitutional position of the north should change in the meantime".
In the short-term, she said her party would concentrate spending on job creation, while public sector reform would "free up resources for other priority areas".
Ms Ritchie said her party wanted "a strong regional economy that can stand on its own feet".
She said it was important to have "more economic levers at our disposal", particularly the transfer of tax-raising powers to Stormont.
"We cannot duck taking responsibility ultimately for our own social security system," she added.
"That is the only thing that restores the rational incentive present in most developed economies that it benefits us all to get people off benefits and into work."