NI voters urged to prepare polling station photo ID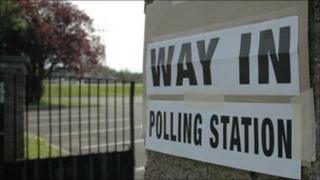 Voters in Northern Ireland are being advised to ensure they have the correct photographic identification in time for polling day.
The Northern Ireland Assembly poll, local government elections and the UK-wide referendum on the Westminster voting system will be held on 5 May.
Seamus Magee of the Electoral Commission said: "It's important to make sure that you have the correct form of identification, such as a passport or driving licence to take with you to the polling station."
He added: "It doesn't matter if your identification has expired as this will still be accepted".
Voters in Northern Ireland have to provide one of the following forms of photographic identification before they can be issued with a ballot paper:
A UK, Irish or EU passport;
A UK, Irish or EEA driving licence;
A Translink Senior, 60+, War Disabled or Blind Person's Smartpass; or,
An electoral identity card
Mr Magee said: "If you don't have one of the correct forms of ID or you have lost or misplaced it, you still have time to apply for an electoral ID card but you must get your application in by Friday 22 April."