Lesley Howell and Trevor Buchanan inquest hearing held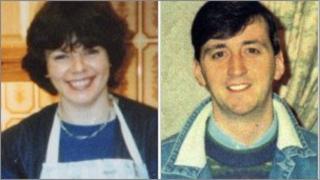 A preliminary hearing has been held at the Coroner's Court in Belfast to arrange an inquest into the deaths of Lesley Howell and Trevor Buchanan.
They were found dead in a car in Castlerock in May 1991.
Their former spouses, Colin Howell and Hazel Stewart, were later found guilty of their murders.
Coroner John Leckey said the inquest will be held in Belfast before the end of June.
During proceedings on Wednesday morning, Trevor Buchanan's brother Gordon and Colin Howell's daughter, Lauren Bradford told the court they wanted the record to be set straight.
The hearing was instigated after Gordon Buchanan wrote to the coroner in April and following correspondence from the attorney general stating that "there should be formal recognition that two persons were murdered and did not take their own lives".
The bodies of Lesley Howell and Trevor Buchanan were discovered in a fume-filled car outside a house in the seaside village.
At the time their deaths were seen as a double suicide prompted by the revelation that their spouses were having an affair.
The investigation was reopened when Colin Howell confessed to the murders in January 2009.
The former dentist is serving 21 years after he pleaded guilty to the killings.
His ex-lover, Hazel Stewart was convicted of the double murder of her husband and her former lover's wife in March.